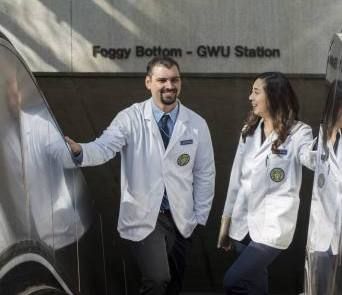 Welcome to GW!
Congratulations on your acceptance into the Physician Assistant Program! We are excited to have you join us. Please carefully read and bookmark this webpage so you can easily reference the important information and resources listed below.
Save the Dates
Mandatory PA/MPH Orientation 2023: May 17, 2023
Mandatory PA Orientation 2023: May 24-26, 2023
PA/MPH 1st day of class: May 22nd, 2023
PA 1st day of class: May 30, 2023
Matriculating Student Checklist (PA and PA/MPH)
1. Apply for Financial Aid
FAFSA: If you wish to apply for federal loans for Summer 2023, you must submit the Free Application for Federal Student Aid for the 2022 – 2023 academic year. Complete the FAFSA based on your 2021 federal tax return. To apply for student loans for the Fall 2023 – 2024 academic year, complete the 2023 – 2024 FAFSA after you have filed your 2022 federal tax return. You will need the GW "school code" to fill out the form: E00197. The Admissions Office must have your social security number on file before financial aid can be processed.
GW Supplemental Graduate Loan Questionnaire: This form is also required for federal and private loans. The PA program will provide step-by-step instructions and an example template on how to correctly complete the Supplemental Graduate Loan Questionnaire on Blackboard. Please do not complete the form until you have received the instructions. An incorrect form is likely to significantly delay the processing of your loan application.
Note: the student living expenses budget for PA and PA/MPH students includes funds for books and transportation. While many of the texts are e-books available through the library, and GW offers a student METRO pass, the budget provides funds for those books that must be purchased and transportation costs that exceed METRO transit. For questions regarding financial aid, please contact the Office of Student Financial Assistance directly, at 202-994-6620 or finaid@gwu.edu.
2. Review the Criminal Background Check Policy 
As a matriculating student, you are required to complete a criminal background check through Certiphi Screening, a third-party vendor approved by the GW School of Medicine and Health Sciences. You will receive instructions via an email directly from Certiphi Screening. If you accidentally delete the criminal background check instructions email, please contact Certiphi Screening at (800) 803-7859.
You are also required to complete a drug screen through Certiphi Screening. You will receive a separate email from Certiphi Screening with instructions to create an account for your drug screen. Upon creating your account, a list of lab locations in the DC area will be displayed. However, there are many lab locations throughout the U.S. Contact Certiphi Screening at (800) 803-7859 to find a lab close to you.
You must provide the following when you visit the lab for your drug screen:
An official government-issued ID (e.g. driver's license or passport)
A six digit code: This code will be issued to you by Student Services
For technical assistance with the system, please contact (888) 291-1369 x2006. If you accidentally delete the drug screen instructions email, please contact Certiphi Screening at (800) 803-7859.
Please note if your drug screen test is positive, this may impact your ability to complete your clinical rotations as scheduled. If a delay occurs, you will be responsible for any additional costs associated with registration and tuition. 
3. Obtain Health Insurance 
Health insurance is mandatory for all Physician Assistant students. Learn more about the GW Student Health Insurance plan.
4. Physical Exam and Immunizations
As a matriculating PA student, you are required to submit a record of a recent physical exam and mandatory immunizations (per CDC policies) and GW policies prior to matriculation.  Please complete the Physical Exam Form and the Immunization Form, located under the section Clinical Forms (for MLS, PA, & PT students) here. The completed forms will be uploaded to your personal tracking system, myRecordTracker.  This information will be given to you by mid-March. Please do not submit the form to the Office of Admissions or Student Services.
Immunization records, including PPD (within the past 12 months) and evidence of Hepatitis B, MMR, Varicella, Diphtheria, Polio, Tetanus, COVID-19, and annual flu vaccination.
Copy of physical examination
Copy of health insurance
Copy of criminal background check
Copy of drug screening test
5. Claim Your GW Email Account
Within a few days of paying your admission deposit you will receive an email from GW IT asking you to claim your assigned GW email address within 48 hours.
All official university communication will be sent to your GW email address only. Plan to check your GW email a few times each week or forward your GW email to another email address you check regularly.
Access your GW email account through the MyGW portal or by going directly to the email login page.
6. Technology Requirements
Candidates that are accepted into the program must meet the following technology system requirements (i.e. laptop or tablet):
7. Visit Student Services Hub
Visit the Student Services Hub. Student Services Hub is GW's virtual and physical one-stop shop for the Registrar's Office, Student Accounts, Student Financial Assistance, GWorld Office and Veteran Services. As an incoming student, visit Colonial Central to:
Obtain your GWorld card. Following course registration, you may obtain your official GW ID card known as the GWorld card by visiting the GWorld Office on the first floor of the University Student Center. This card is required to access Ross Hall and other secured areas of campus. Please bring a photo ID and your GWID number to the GWorld office.

Learn about tuition payment plans and student loans.

Are you a Veteran or Dependent? Visit the Office of Veteran Services for information on the G.I. Bill and other resources.
The Graduate Study page has a collection of GW resources and policies to help you transition to graduate study.
GradLife is the hub for living, playing and studying in Washington, DC! Explore off-campus and on-campus housing options, GW Trails, student organizations, academic resources and various campus services and support organizations including the Career Center, Counseling Services, Disability Services, International Students Office, LGBT Center, Multicultural Center, Transportation and Parking Services.
8. Didactic Schedule